Regular price
$125.00
Sale price
$69.95
Unit price
per
Sale
Sold out
ELIMINATE WRINKLES, BLEMISHES AND DARK CIRCLES!
You've probably bought thousands of skincare products but have seen very few results. Expensive cosmetics can't always combat the harsh effects of aging. If we want to see real changes, we have to go for a treatment that is proven to work!
Reduce fine lines, unwanted pigmentation, pores and scars all while tightening loose skin at the same time! Genève™ Ultrasonic LED Massager is a must-have for every woman who wants to take care of her face without having to pay for expensive beauty treatments.
Hot & Cold features of the Genève Massager acts directly and effectively on several fronts in order to eliminate wrinkles and remove blemishes.
HOT & COOL DUAL MODES:
Hot Mode - Opens up the pores for deep cleansing and repairs damaged skin. This is ideal for applying any topical treatment as it enhances the absorption rate for maximum benefit. 
Cold Mode - Detoxifies and shrinks pores. As we age our skin loses more moisture and becomes dehydrated resulting in visible wrinkles. Cold therapy shrinks pores and stimulates collagen production.
RED & BLUE PHOTON THERAPY: Genève Massager promotes blood circulation and collagen regeneration to increase skin elasticity. Red light also repairs damaged skin and diminishes the appearance of fine lines and wrinkles!
SONIC VIBRATION MASSAGE FUNCTION: High-frequency vibration rate of 8200 per minute stimulates skin cells and promotes blood circulation to relieve fatigue and rejuvenate the facial complexion.
Customer questions & answers
What does each color do?
Red light waves can effectively penetrate the skin, activate collagen activity, and improve dark spots. Blue wave improves acne and blackheads.

Can I use this device every day?
Yes. You can use this twice a day, in the morning and evening. 5 minutes for each session together with your skincare.
How long until I see results?
First changes are often visible within days. Visible results begin to show in as little as 1 week (3-4 sessions). Depending on your individual skin condition, age and number of sessions, you may need 3 to 8 weeks in order to see optimal results.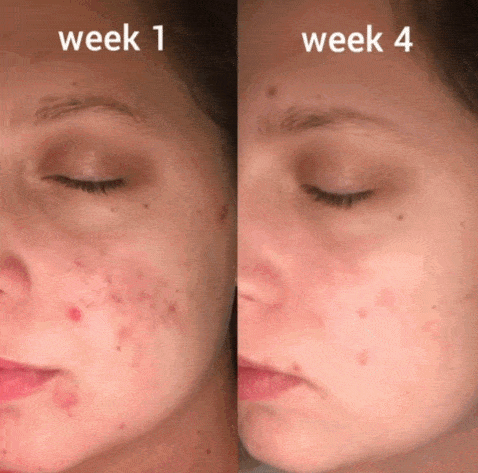 Can I use the blue and red ones after?
Yes. But if you have sensitive skin be careful not to use Genève device for too long.
Does it work on a wrinkly neck?
Yes, it does! Try using it every other day and you should see a noticeable effect within couple of weeks.

Can you use this on the body?
This can be used on every part of the face and body skin, and used with the essence, the effect is very good!
SPECIFICATION:
Material: ABS
Voltage: 5V
Service Power: MAX10.5W
Temperature range: 6-42°C
Charging Time: About 3 Hours (USB cable)
Battery: 1000mAh Lithium Battery
Current: 400MA
PACKAGE INCLUDES:
1x Genève™ Ultrasonic LED Massager (Gold Edition)
1x USB charging cable
1x English Manual
View full details