FREQUENTLY ASKED QUESTIONS
Which payment methods do you accept?
We accept PayPal and all major credit cards.
Do you sell my details to any other companies?
We value your trust above all. Your personal details will never be sold to third parties.
Is it safe to place an order on your site, will you have access to my bank details?
We do NOT have access to your card details. All payments are processed through PayPal and Stripe, certified Level 1 PCI DSS compliants.
Can I change/cancel my order after it's placed?
We are pretty quick at getting your order out the door, thus we are unable to make any changes to your order once the order has been processed. Please make sure to contact us as soon as possible if you wish to make changes to your order.
I am having trouble with your website.
Please ensure the browser you are using is up to date. It may be worth deleting your cookies and trying the site again. If you continue to experience issues, please get in touch with our support team at support@geneveaesthetics.com and provide the following:
- Detailed description of the issue you are having
- Screenshots of any error messages you may be experiencing
What's the delivery time?
Expected delivery depends on where you live. We will always try to minimize the shipping time using our facilities that are the closest to you.
- USA, Canada, Europe and Australia: 7-18 business days
- Rest of the world: 10-18 business days
Upon shipment, you will receive the order tracking number which you can use to track your item (if the local carrier allows it).
I happened to write the wrong address - what do I do?
Send us e-mail to support@geneveaesthetics.com as soon as possible with the new correct address. Please note, if you don't contact us in time, we cannot guarantee a delivery.
What about duties / import taxes?
Genève Aesthetics is NOT responsible for any duties and/or import taxes that you may be subjected to. Duties and taxes, if applicable, will be charged at the customer's expense and refunds will not be issued if you choose not to pay the charge.
I have still not received my package - what do I do?
If more than 25 business days have passed, please write to support@geneveaesthetics.com. We'll find your package and solve it ASAP.
*Genève Aesthetics takes no responsibility for orders that are not received despite having a 'delivered', 'pick up' or 'undeliverable' status to the customer's specified delivery address, as proven by USPS or other major domestic carriers.
We can only reship the order if the package is returned back to us as evidenced by the tracking number.
What's included in the box?
1x LED mask (150 LEDs)
1x remote control
1x USB cable
1x Power cord (110V – 220V)
1x English user manual (upon request we also offer manual in French, German and Dutch in digital version)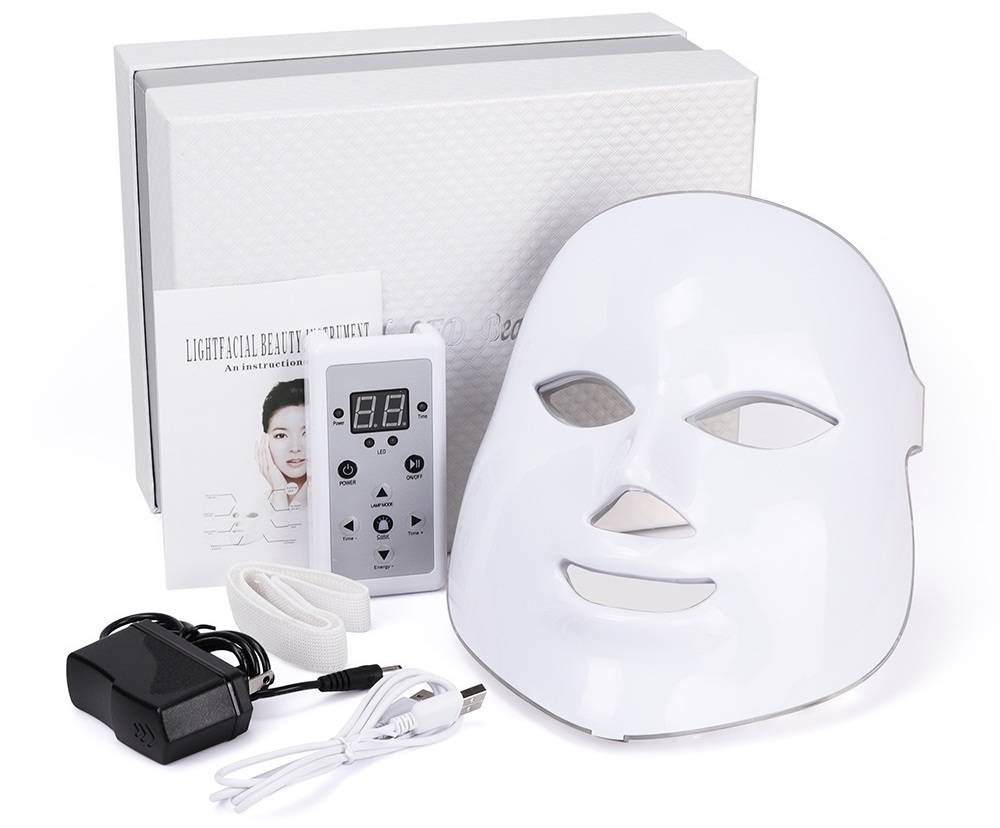 How soon are results visible?
First changes are often visible within days – sometimes, you can even see a difference immediately after your very first treatment. Visible results begin to show in as little as 1 week (3-4 sessions). Depending on your individual skin condition, age and number of sessions, you may need 3 to 8 weeks in order to see optimal results.
How often should I use the Genève Mask?
We recommend starting with 15-minute sessions, 3 times a week for the first 2 weeks. As your skin gets used to the light therapy, you can gradually increase the time to 30 minutes, 4 times a week. After optimal results have shown, you can reduce the frequency to 1-2 treatments a week in order to maintain your newly transformed skin.
Does it really work? Is there any proof?
LED Light Therapy is scientifically proven to work, this is why beauty clinics offer this treatment for such a high price. It uses energetic light in the form of photons. When the skin is exposed to light, these photons penetrate the skin and transfer their energy into a form the body can use called ATP.
Adenosine triphosphate (ATP) is our body's fuel for energy; the more energy we have, the more our body can use that energy to perform its functions effectively – such as rejuvenation, repair processes and elimination of bacteria.
The technology has been thoroughly tested, evaluated and validated by hundreds of Universities, Medical Labs and also NASA. There are over 2000 reports and documents written on this technology. You can click here for a selection of the most relevant studies.
Can I watch TV / read a book with the mask on?
You surely can - our masks feature medical grade silicone pads around the eye area to keep you protected from the light. That being said, we always recommend you lay down and have your eyes closed during the whole treatment as it guarantees the light therapy works optimally and the mask is not moving around too much. And you can use the time to relax, too!
Do I have to use any other product on my face when using Genève LED Mask?
While some of our customers like to apply their preferred cream / gel / night oil before using the mask, we recommend using the mask on a bare skin and apply your skin care products afterwards as this will ensure the beneficial light waves are properly absorbed by your skin.
I am in my mid 30s and get a lot of hormonal acne. Can Genève Aesthetics device help? Does the mask reduce post acne marks as well?
Absolutely! To help against hormonal acne and acne scars, we recommend using a combination of Blue and Purple Light. You can start with 10 minutes of blue light and 5 minutes of purple light each session 3 times/week and gradually increase the total time to maximum of 30 minutes. We also recommend following your normal routine after each treatment in order to see the best results.
What treatment protocol would you recommend for Rosacea?
We recommend starting the treatment with 15-minute sessions of Red light, 3 times/week. If everything goes well, you can slowly built it up to the total of 20-30 minutes, 4 times/week and add in Yellow light as well.
Does the light therapy work and on people over 50? I am 53 and want to reduce wrinkles & fine lines.
Yes, it does! The red light promotes the production of collagen and elastin which tones your skin, making it less saggy and wrinkle-free. In fact, many of our customers get the Genève Mask just for the proven anti-aging effects of the red light alone.
Should I stop using the mask when my imperfections have disappeared?
To maintain all the amazing benefits, we recommend performing 1 to 2 light therapy sessions per week.
Do LED bulbs loose strength over a period of time?
No, they don't. Each of the 150 LED light bulbs on the masks have undergone numerous stress tests in order to ensure that the light maintains its power & effectiveness for years to come.
I really like the product but is there any kind of guarantee?
Of course! We offer a 30-day money back guarantee and 3-Year Warranty on all our masks! Simply let us know within 30 days of receiving the item and if the mask is not a good fit for you, we will issue a full refund.
How does the 3-year warranty work?
Warranty conditions
This limited warranty applies to purchases of Genève Aesthetics™ Photon Mask, provided that the order was made at www.geneveaesthetics.com. It is valid for exactly 3 years from the purchase date, based on a valid proof of purchase.
What does the warranty cover?
Defects in material workmanship under normal use during the warranty period. During the warranty period, Genève Aesthetics will replace/repair the product or its parts which proved defective due to improper material of workmanship, under normal use & maintenance.
How long does the coverage last?
The warranty period is 3 years from the date of purchase. A replacement product or part shall assume the remaining warranty period of the original product.
What is not covered by the limited warranty?
The warranty does not cover issues caused by:
- conditions or damages due to wrong use of the product
- conditions or damages due to improper maintenance
- wear and tear of the product
- damages or defects to the remote control, power cord or USB cord are NOT covered
How to claim the warranty?
To obtain the warranty services, please contact us at support@geneveaesthetics.com with a proof of purchase (order confirmation email or receipt) and images/video proof of the condition. It is also required that the product is shipped back to us - please note that we are NOT responsible for the shipping costs of the product.
Upon receipt of the product we will inspect the issue and provide the most suitable solution for each case, as long as it fulfills the conditions above.
[IMPORTANT] Can everybody use it?
We always recommend consulting your dermatologist before you try new therapy like Genève Aesthetics™ Photon Mask. You should avoid using the device if any of the following conditions apply to you:
People with epilepsy * People suffering from or having suffered from Skin cancer * People with infection or wounds in the area to be treated * People with photosensitivity to LED light * People using isotretinoin (Accutane), for acne or use topical treatments that cause sensitivity to sunlight * People taking cortisone injections or any other steroid injections * Thyroid * People with a keloid * People with hyper-sensitive skin * People with a pacemaker * Children *
Is light therapy dangerous for the skin?
Absolutely not! Light therapy does not use UV. The mask projects so-called "cold" light, so there is no risk of redness or irritation to your skin after use. LED treatments have been used for more than ten years by dermatologists and they are widely recognized in the medical industry.
Is the treatment painful?
Light therapy is a gentle, painless, non-invasive and non-abrasive treatment. There is no down time for each treatment.
Does the mask get hot during the treatment?
No, it does not. While slightly warm feeling may be expected, the LEDs never significantly heat up, even during long sessions.
What is best way to clean mask after using?
• Properly unplug the device by holding the plug and removing it from the AC outlet
• Dampen a soft cloth and lightly rub the device when it appears dirty (please, do NOT use water directly) or use an alcohol pad if needed
• Immediately dry off any moisture, chemicals or water on the device
• Always keep the device clean and sterilized
• Store the device in a dry place