Regular price
$275.00
Sale price
$139.95
Unit price
per
Sale
Sold out
DIY BEAUTY MASK FOR GLOWING SKIN!
Home-made skincare masks that boost your appearance, rejuvenate the skin and uplift self-esteem! Genève™ Face Mask Maker Kit is designed to make fresh, spa-quality masks in 5 minutes and from the comfort of your home!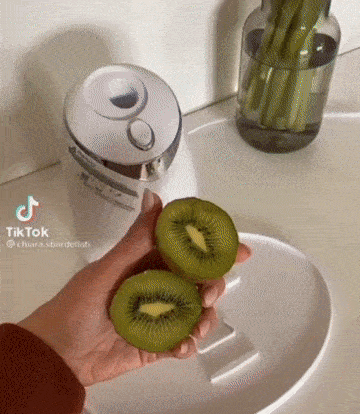 All you have to do is combine one of the included collagen peptides along with your favorite ingredients (such as fruit and vegetable juices, tea extracts, essential oils or bean extracts). The machine does the rest!
Genève™ Mask Maker will be your new secret weapon! It only takes 5 minutes for the face mask maker to amalgamate your chosen ingredients into fresh, chemical-free & luxurious mask, just for you!
The mask will be formed evenly and automatically on the mask plate in a press of a button! Thanks to the high bio-availability of the collagen capsules, the ingredients are easily absorbed, offering the best in skin tightening and skin rejuvenating benefits.
Store-bought masks are expensive and not always of the best quality. The potency of their active ingredients often loses strength after countless months spent sitting on a shelf. They can also contain hidden, dangerous ingredients like lead and phosphorus.
For the cost of only 10 store-bought, shelf-stale masks, you can have your very own machine and create endless fresh masks at home. It's a no-brainer! Nourish and replenish your skin with vital nutrients, and bring your youthful glow back to life!
Quiet, automatic & easy to operate. Only one power button to control all the programs - click the power button to confirm the mask making mode and the cleaning mode.
GOOD TO KNOW

Combines collagen with fresh ingredients to form a cohesive mask
Experience a spa-quality treatment at home
The whole process takes under 5 minutes
Masks fit perfectly any face shape
Skin tightening, anti-aging & rejuvenating benefits
No lead / phosphorus / harmful substances
No enzyme or nutrient loss
Use your preferred fruit or vegetable mix
HOW TO USE

Step 1: Place Facial Mask Maker on a flat surface.
Step 2: Plugin power.
Step 3: Set mask-making mode.
Step 4: Pour in water & fruit/vegetable juice.
Step 5: Close the lock cover.
Step 6: Press the button and wait 5 minutes.
Step 7: Pour out fresh mask liquid into the mold.
Step 8: Wait for 2 minutes to cool and condense.
Step 9: Use the mask knife (included) to get the mask.
Step 10: Put the mask on your face & enjoy!
HOW TO CLEAN
Genève machine has a self-cleaning mode, so when you're done, all you have to do is press the button in order to initiate the cleaning function.
SPECIFICATIONS

Material: ABS+Stainless steel
Color: White
Machine Size: 119*119*165mm
Mask Plate Size: 226*170*10mm
Voltage: 110 - 240V
Power: 90W, 50/60Hz
Mask making time: 5 minutes
WHAT'S IN THE BOX?

1x Genève Mask Maker machine
1x Form for the mask
1x Mask knife
4x Collagen packs (32 tablets)
1x Measuring cup (100ml)
1x Cleaning brush
1x Power cord
1x User manual (English)

BUY NOW WITH NO RISK!
Customer satisfaction is our number one priority - and we mean it. Not satisfied with your order? No worries! Let us know within 30 days and we will give you a STRESS-FREE refund.
View full details