BRING THE SPA TO YOUR HOME
Treat your skin to a luxurious, hydrating experience with the Genève™ Hot Mist Steamer. An ultrasonic vaporizer to produce high-temperature water molecules lets it penetrate deep into the skin, resulting in healthier-looking skin that's smooth, supple, and hydrated.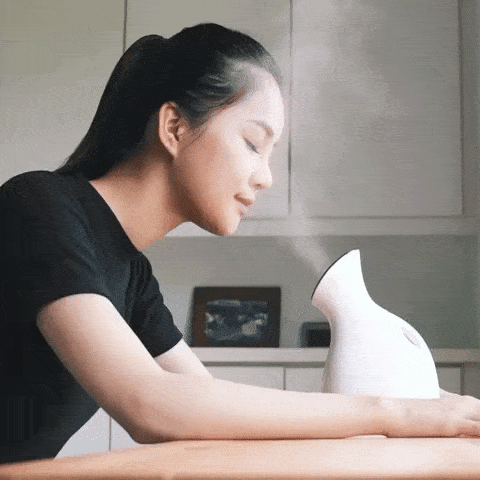 WARM MIST STEAM, DEEP CLEANSE
When you expose your skin to steam, it opens up your pores, removes cosmetic residue, and helps soften the skin. All it takes is an 8 minutes gentle warm mist facial spa at home. Genève™ Hot Mist Steamer generates a warm and large mist within 30 seconds with a PTC ceramic heating chip. The enormous amount of mist makes it possible to make a full facial spa.
PORTABLE, SAFE AND HARMLESS
Use Genève™ Hot Mist Steamer anywhere, be it in the living room, washroom, or bedroom. Our facial steamer has a safe one-Touch switch with auto-shutoff that generates super-thin steam particles, 4,000 times thinner than ordinary steam, which will prevent burning or damaging the skin.
EFFECTIVE HYDRATION
Genève™ Hot Mist Steamer combines a heating element with a new ultrasonic vaporizer to produce high-temperature water molecules. The fine mist which is called nano steam can be absorbed by the skin easier.
BEST FOR ALL SKIN TYPES
No matter your skin type, you can detoxify your skin and clear up your pores by removing excess oils and sebum. Suitable for the whole family.
PERFECT FOR EVERYDAY ROUTINE AND SAVES MONEY
Genève™ Hot Mist Steamer not only infuses the skin with moisture but accelerates the benefits of daily skin products. By steaming, you've increased trusted source skin's permeability, enabling it to better absorb skincare products. Leaving an immediate glow on your face.
What can a steamer do for your skin?
Soften skin
Help remove dead skin, dirt, oil, and makeup remnant.
It allows sweating and therefore helps remove toxins.
Removes congestion in the sinuses. Naturally deep cleansing to purify the skin, boost blood circulation, and prevents signs of aging.
Open the pores, reduces acne and blackheads/whiteheads.
It allows you to forget the stress of the day for a while. Adds moisture to your room so acts as a humidifier.
What can a steamer do for your hair?
The heat aids in hydrating dry hair leaving your parched tresses happy.
The moist heat also encourages blood flow to circulate, promoting hair growth.
The steam lifts the hair cuticle allowing your treatments to penetrate deeply into the hair shaft helping to heal damaged hair.
HOW TO USE
Genève™ Hot Mist Steamer has been designed to be very easy to use.

Fill up the tank with water, you can use purified water for maximum results
Insert the water tank back into Steamer
Connect the plug into the power outlet
Turn on the steamer and enjoy 12 minutes of facial cleansing and rejuvenation